Laser HairPro272 hair growth cap

Quick Details
Place of Origin:                      Chongqing, China
Brand Name:                          HairPro Plus
Model Number:                       HairPro
Instrument classification:        Class II
MOQ:                                      1 piece
Electrical parameters
1) Power box:
          Output voltage: 11.1V ~12V
          Pulse frequency: 4.5Hz
          Total capacity: 2200mAh 
2) Charger:
          Output voltage: 12.6V
          Output current: 1000mA
3) Laser cap
          ①Laser diode: 5mW, continuous wave laser semiconductor
          ②Number of laser tubes: 272
          ③Wavelength: 650nm ± 5nm
          ④Total power: 1.360W
Mechanical parameters
1) Laser cap
           Size: 200×170×70mm (L×W×H, bare cap) 
           Weight: 0.21kg
2) Battery box
           Size: 60×108×42mm (L×W×H)
           Weight: about 0.23kg
3) Packing box
           Size: 260×2305×140mm (L×W×H)
           Weight: about 0.46kg
Units Sold: 0
Laser HairPro272 hair growth cap  is composed of 272 independent lasers with a power of 5mv and a wavelength of 650nm. These lasers are concentrated in a sealed semicircular module, and this semicircular module can be installed in any style of hat Inside, and uses a rechargeable lithium battery to supply power. With such an efficient and portable treatment device, you can perform treatment anytime, anywhere without going to a medical clinic.
Compared with other similar lasers, Laser HairPro272 hair growth cap has many therapeutic advantages:
1. Efficient treatment effect: the use of a new patented light source can be used with hair growth liquid and other hair growth and hair care products;
2. Long-lasting effect: 650nm low-energy cold laser therapy can lengthen blood vessels, promote blood circulation, and make hair follicles sufficient for nutrient supply and better nutrient delivery.
     Easy to make the curative effect of revitalizing, growing and strengthening the head hair longer;
3. Recreational treatment, flexible and comfortable operation: rechargeable lithium battery power supply, convenient operation, movable treatment, walking, jogging, and even
     To cycling, driving, etc.;
4. Practical, safe, without any side effects, suitable for family therapy and long-term use.
Features:
   1) Easy to carry, no need to fix a position for treatment;
   2) Wide range of use environment: watching TV, driving, climbing, walking;
   3) Using high-capacity rechargeable lithium batteries, economical, environmentally friendly, and light in weight;
   4) The laser cap can be put in any kind of cap for treatment, decent and comfortable;
   5) No side effects, no need for other drugs for treatment
Product Details
Hair growth
Hair restoration
Anti-hair loss

Low level laser therapy can effectively stimulate most hair follicle which is in the state of hibernation to active status and improve hair loss in telogen and too short hair growth period, to achieve the effect of reducing hair loss and hair re-growth. 
Product Parameters
| | |
| --- | --- |
| Number of Lasers | 272 |
| Diode Output | 5mW |
| Laser Wavelength | 650nm±5nm |
Product Details Show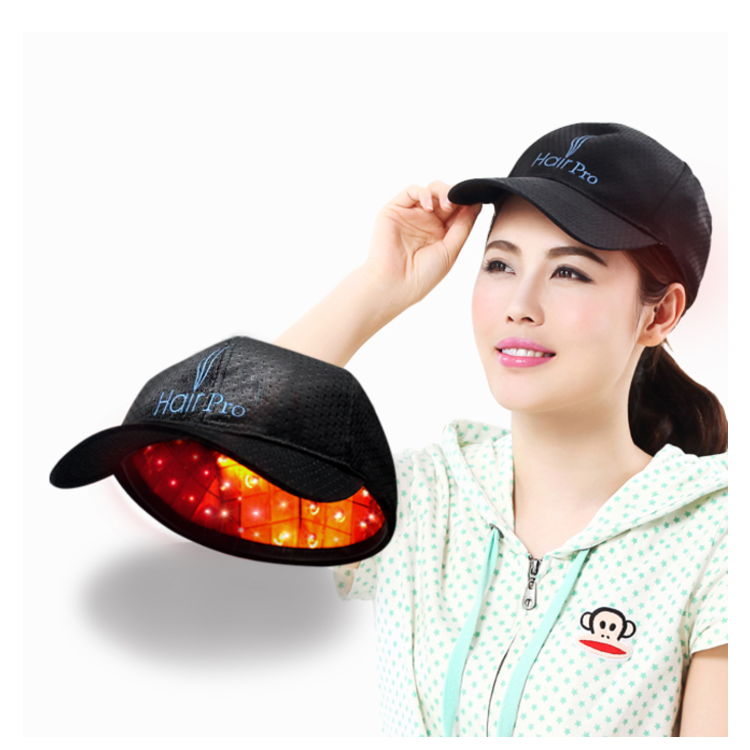 Specification:
Laser HairPro272 hair growth cap
Shipping Policy
SHIPPING POLICY
When will my order be processed?
All orders are handled and shipped out from our warehouse. Please allow extra time for your order to be processed during holidays and sale seasons.
We process orders between Monday and Friday. Orders will be processed within 3-5 business days from the order date and shipped the next day after the processing day. Please note that we don't ship on weekends.
Once your order has been placed we are unable to cancel it. if you need to change delivery information, please contact us right away. Once the order is processed we will be unable to make any changes.
How long will it take to receive my order?
Please allow 3-5 business days to process your orders. After that, it may take 8-14 business days for delivery depending on your location.
Lost/Stolen Packages:
Rizbie is not responsible for lost or stolen packages. If your tracking information states that your package was delivered to your address and you have not received it, please report it to your respective shipping carrier provided to you on the tracking page. If you have any further questions please reach out to our customer support team at contact@rizbie.com.
Return Policy
We offer our customer a 1-year warranty, which means the customer can return the item for repair.
However, the shipping cost will be shouldered by the customer, and will ship it back together with your next order.
For more questions email us at contact@rizbie.com